DATE: 24TH – 28TH FEBRUARY 2020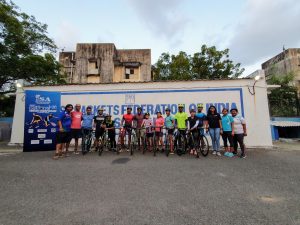 VENUE: INDIAN TRIATHLON ACADEMY
116 A, EVR PERIYAR HIGH ROAD
NEHRU PARK, CHENNAI – 600 084
LIST OF PARTICIPANTS:   ITU FACILITATORS FOR THE COURSE: MR. LEE EUGENE
ASSISTED BY: POOJA CHAURUSHI – ITU LEVEL 2 COACH - INDIA | R G KRISSHNA - ITU LEVEL 2 COACH - INDIA
NAME OF THE TRIATHLETES / COACHES PARTICIPATED
DIPESH CHAUDHARY – TRIATHLETE - NEPAL
BASANT THARU – TRIATHLETE - NEPAL
KESHARI THAPA MAGAR – TRIATHLETE - NEPAL
SONY GURUNG – TRIATHLETE - NEPAL
DEBASIS HALDAR  – TRIATHLETE - INDIA
SANKALP THORAT – TRIATHLETE - INDIA
ANUJA UGALE – TRIATHLETE - INDIA
SHASHI KIRAN SM – TRIATHLETE - INDIA
PRADHAP MURUGAN – TRIATHLETE - INDIA
ACCHYUTAN SHIKHAR – TRIATHLETE - INDIA
PRATHIKSHA MURUGAN – TRIATHLETE - INDIA
LINTHOINGAMBI M C – COACH - INDIA
POONAM BISWAS – COACH - INDIA
RAJDEEP MONDAL – COACH - INDIA
AMISH MAHARJAN – COACH - INDIA
REPORT: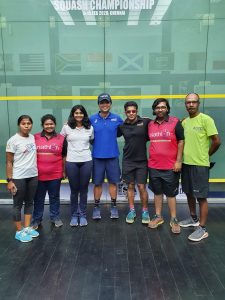 The ITU South Asian Development camp held between 24th - 28th February 2020 had been very fruitful for the athletes and Coaches and according to Mr. Eugene Lee the head coach for the camp, this was one of the most successful SD camp in Asia.
The junior and U-23 triathletes got chance to work on their techniques and got better understanding of importance of Strength and Conditioning in Triathlon. By the end of this 5 days camp, there was a visible difference in the performance and techniques of many triathletes.
Our coaches Miss Linthoingambi got chance to work with actual athletes for the first time and learnt the basics of coaching and how the coaching can be done. Miss Punam Biswas and Mr. Rajdeep Mondal also got chance to learn different methods of coaching. They all got to learn proper techniques for Strength and Conditioning (By coach Krisshna), swim, bike, transition and run and how it can be implemented to develop an athlete.
Head Coach Eugene and the Coaches Pooja Chaurushi & R G Krisshna took some theory sessions for the triathletes and coaches on subjects like How energy system works, importance of energy system in training and racing, Time Management in Coaching and Training, Time Management for coaches and athletes, Lifestyle management, Race techniques and tactics, etc.
Overall the triathletes and the coaches got benefitted by this camp and according to Mr. Eugene Lee, the Indian triathletes Anuja, Pratiksha, Acchyutan and ShashiKiran has potential to get selected in Team ASTC in future.