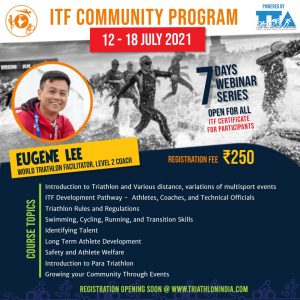 The Indian Triathlon Federation will be conducting an annual online community course for the entire Triathlon fraternity. This program is supported by the Tamil Nadu Triathlon Association (TTA). The first season of the community course is scheduled from 12 – 18 July 2021.
The ITF Community course is geared towards enthusiasts, athletes, parents, teachers, and community leaders who are keen to discover and gain insights into one of the fastest-growing Olympic sports in the world currently, with community leaders from the Indian Triathlon Federation and keynote speaker Eugene Lee, over a 7-day webinar series.
Eugene is a Singapore-based professional performance coach and coach educator with 20 years of technical coaching expertise in Triathlon, athletics, strength, and conditioning. Eugene is an Asian Triathlon executive board member and also a World Triathlon facilitator for coach education.
The key topics covered during this webinar are the introduction of Triathlon & various distance, ITF development pathway, triathlon rules & regulations, Swimming, Cycling, Running & Transition Skills, introduction to para-triathlon, identifying talent and much more.
With the plan of making this community course an annual event, the course is designed to create awareness about the sport, spreading light on the scope of the multi-sport event, ways to improve or maintain physical fitness and steps to represent the country.
ITF will provide participants with a certificate of completion at the end of the course.
Eugene said, "It is an excellent initiative by TTA, and I am sure this course will encourage more people to take up Triathlon. I am glad, and it feels great to be a part of this course and share my knowledge. I am looking forward to seeing more people take up this sport and hoping to be part of this program in the coming years."
Date: 12-18 July
Time: 5:00 PM to 7:00 PM
Fee: Rs 250/- 
Registration form – https://forms.gle/SeKUQszZMPu1ekJ4A