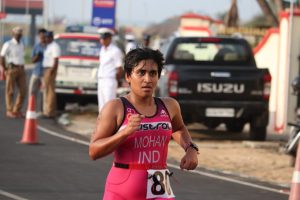 World Triathlon selects 2 Indian female national champions as 'mentees' for re-launched Mentorship Program.
Our two female National Champions MC Linthoi from Manipur and Pragnya Mohan from Gujarat who were  nominated by ITF as 'mentees' have been selected by World Triathlon for their re launched mentor program to be delivered virtually.
The Mentor programme was  re-launched by World Triathlon  along with the women's committee  with the aim to increase and sustain the number of women, people with disability and individuals from developing nations to become leaders in coaching, technical officiating and governance in the sport.  As is common to any sport, it greatly helps to have skilled mentors who can guide, support the next generation of athletes on their journey to success.
The Mentor Programme is to be delivered in two blocks; 1st block which commenced in August 2020 followed by the next block in January 2021. Each block will be made up of three courses starting four weeks apart – each of six weeks duration. Each course will comprise of pre-course work, weekly e-learning, weekly exercises and weekly webinars. It is expected that this will involve between two and nine hours of commitment per week to complete the course.  As per the program 2 to 3 mentees will be assigned to a mentor at the end of the program.
"We had identified National Champions MC Linthoi and Pragnya Mohan as mentees for this program and I am delighted that both have been selected into the World Triathlon Mentor programme.  This re launch initiative by World Triathlon will be immensely useful for knowledge transfer from mentor to mentee.  I am sure that the mentees will greatly benefit from the guidance and support they receive from their mentors during the 9 month mentee period" said Mr. N. Ramachandran, CEO, ITF.